July 22, 2022
Tech­nique and fit­ness get the bulk of our prepa­ra­tion and prac­tice with moun­tain bik­ing but being pre­pared for the ride with the cor­rect gear is essen­tial for safe and suc­cess­ful adven­tures. Let's talk about the key items to pack before hit­ting the trail.

We break it down into 3 expo­sure cat­e­gories, The Quicky, The Big Ride and The Epic. For each ride expo­sure, you need to con­sid­er both Self Care and Bike Care. You could haul the Epic kit on every ride and be cov­ered, but it's nice to light­en the load when it is a smart plan.
Pack your cellphone!
Your phone is a valu­able tool on the bike. Always:
Charge your phone.
Get Trail­forks. Use the paid ver­sion as the free is incom­plete. Also, make sure you have your regions down­loaded. When you are out of cell range, the GPS on most phones will keep your nav­i­ga­tion on point. There are oth­er options like Gaia, Fat Map, MTB Project, etc. We have found Trail­forks to have the most com­pre­hen­sive list of sanc­tioned trails and has enough user base that most trail loca­tions have fre­quent trail reports. In addi­tion to routes and maps, there is a use­ful "Emer­gency Info" with the local emer­gency num­ber and your cur­rent location.
While not nec­es­sary, who does­n't want some plant and ani­mal iden­ti­fi­ca­tion apps. Two very good apps are "Pic­ture This" for plants, "

Mer­lin

" for birds.
The Quicky — I can walk back to my car Ride.
Some rides are short in dura­tion and don't require the big pack. These are rides you could safe­ly walk back to the car in a pinch and are able to call your emer­gency contact.
The Pack — End­less options, but most would agree the hip pack is ide­al for the quicky. You can always use your Epic ride pack but using the hip pack is so com­fort­able when it works.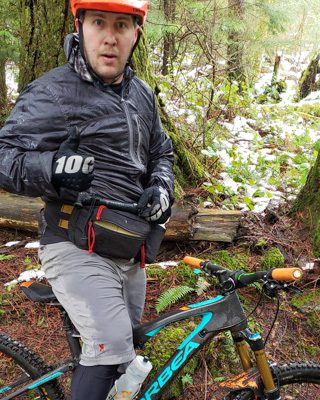 Self Care
Water – pre-hydrate and car­ry 2L for most rides under 1.5 hours. For a ride last­ing 1 hour, a bot­tle on the frame is per­fect. Con­sid­er an elec­trolyte tab if you need the salt.
Food – Ride after you have been fed then grab a cou­ple bars you like and 1 you don't. Pick calo­rie dense options like Clif Bars or Pro­Bars. The bar you don't like is a great back­up. If you have space for any "real" food like a sand­wich or fruit, your body will be much hap­pi­er, but it's not always the ide­al option due to space.
Small first aid kit – basics are always impor­tant. You are like­ly going to get some small cuts when rid­ing. Plan enough to clean and dress in case the wound is in a loca­tion you need like your palms. It's also a good idea to pack ibupro­fen and an anti­his­t­a­mine if you have sting­ing insects or plants. Don't for­get latex free gloves in case you are help­ing some­one else.
Cloth­ing – Have an extra lay­er, but if the weath­er is easy and the fore­cast is sta­ble, you can go with­out extra. If there is doubt, a rain shell is the most impor­tant piece to toss in your pack.
Bike Care
Mul­ti-tool – min­i­mum includ­ed tools are hex wrench­es (2.5, 3, 4, 5, 6, 8mm), Torx T25, Chain break­er, chain pliers.
Leather­man – most­ly for the pli­ers and knife
Tire plug system
CO2 and inflator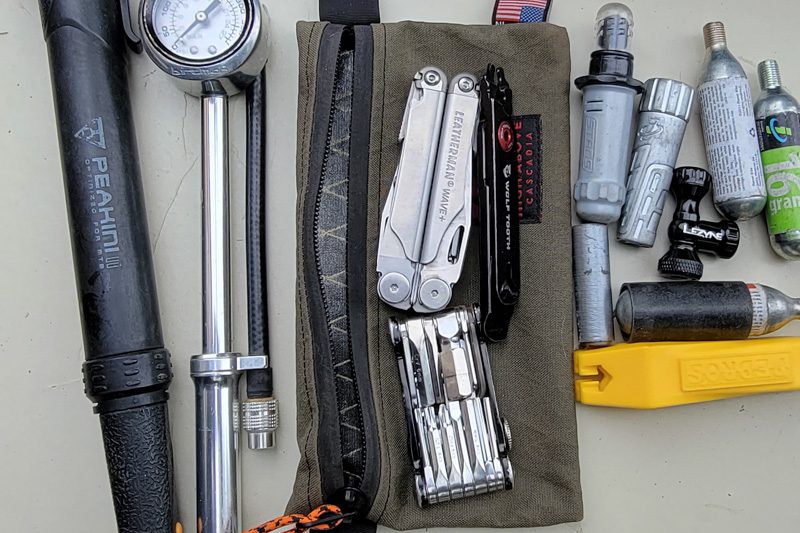 A Big Ride Day
This is for the full day rides, but with­in reach of roads. This is the ride where you need to plan on get­ting back to the trail­head on your bike because it's too far to walk. Man­ag­ing mechan­i­cals and ener­gy lev­el is essen­tial. In many cas­es, you will have access to cell recep­tion and there are like­ly roads near­by for evacuations.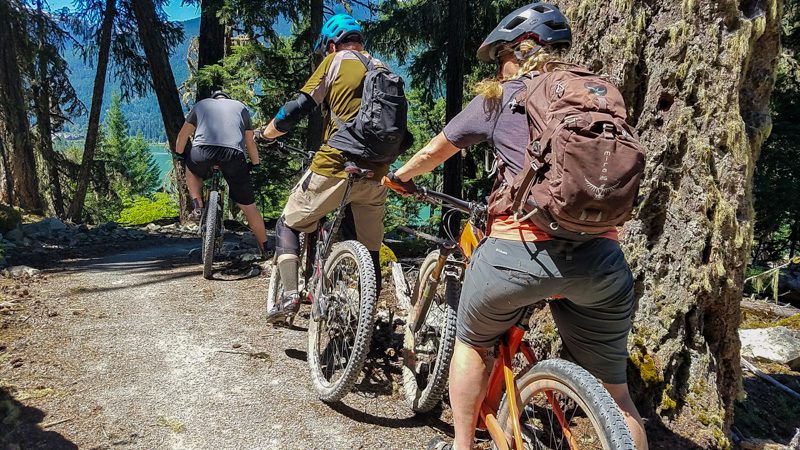 The Pack – This pack should be big­ger than the quicky. Some hip packs are able to host a 1.5L water blad­der and have stor­age for every­thing else. How­ev­er, a heavy hip pack will make your low­er back ache on a long ride. In gen­er­al, you will want to move into the back­pack hydra­tion for­mat for a big MTB day. A light­weight option that can hold 2L plus a jack­et is ide­al. After you have your pack add every­thing from the Quicky ride plus these recommendations:
Self Care:
More water. Plus add an elec­trolyte tab for either fla­vor or salt.
More food.
Add a space blan­ket, tri­an­gle ban­dage, tape, larg­er abra­sion pad to the first aid kit.
If the weath­er is easy, it's still a good idea to have a rain shell in the pack. This can serve as a warm lay­er, sun­shade, or actu­al rain/wind guard which can be wel­come on a descent. If you have water cross­ings, fresh socks can be a wel­come treat for the sec­ond half of the ride.
If it's wet, pack a sec­ond pair of gloves in a water­proof bag.
Clear lense for mud.
Bike Care:
A spare tube – you will be glad you have it when you can't get your bead to set, or you run out of plugs.
Tire pump
More CO2s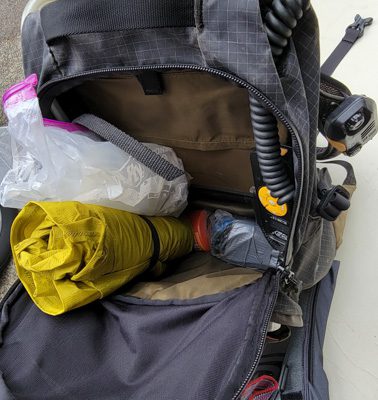 The Epic
This is for the ride you need to plan for many vari­ables, away from help, cell and re-fuel.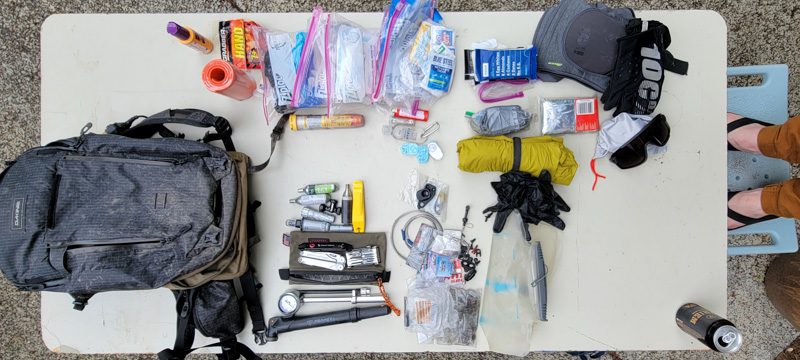 The pack. Large, com­fort­able, and reli­able. In addi­tion to the above lists, you want to add:
More water. 3L in the pack and 2L on the bike is the max most can car­ry and still ride comfortably.
Water purifi­ca­tion plan. This is cer­tain­ly loca­tion depen­dent, but con­sid­er tak­ing a fil­ter, UV or tablet purifi­ca­tion system.
More food. While the Quicky and Big Rides are with­in an effort lev­el that you can plan some­what light plus a lit­tle extra, for the epic you need to main­tain and refu­el. Bring extra bars and gels, take a big bur­ri­to, left­over piz­za, or some oth­er ener­gy packed wrap.
Dress for the known weath­er, then add the rain shell, a ther­mal lay­er, extra gloves. A sun shirt with a big hood can be a big help for long days in the sun and packs small.
Full first aid kit. Make sure you have mole skin.
Sun­block, Chap­stick, extra pack­et of Chamois Cream
Bike Care:
Spare Parts. Chain links, dérailleur hang­er, cou­ple spare M4 and M5 bolts, SPD cleat bolt, spare shift cable, valve core
Shock pump.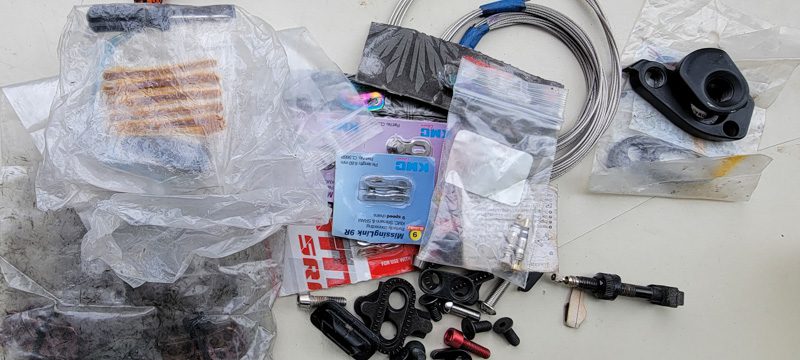 Oth­er con­sid­er­a­tions when pack­ing for the epics.
Before depart­ing, com­pare packs with every­one you are rid­ing with. It might not be nec­es­sary for every­one to car­ry every­thing, and it's also a good idea to share the weight when you are push­ing the bound­aries. 1 water fil­ter is plen­ty for sev­er­al peo­ple, 1 shock pump, 1 extra big first aid kid, etc.
Com­mu­ni­ca­tion. When you are out of cell, what is your back­up plan? The Garmin Inreach is a great safe­ty to keep in the pack. Satel­lite phones are not in most rider's kits but are essen­tial for some of the more remote des­ti­na­tion. 2‑way radios can also be use­ful when your group is spread out.
A ride plan with some­one back home watch­ing for the planned con­tacts with a back­up plan in the event you don't get out of the woods as scheduled.
What do you find valuable when riding? We would love to hear what works for you. Comment below!