A Message From Sacred Rides' Founder
Why Mountain Biking Matters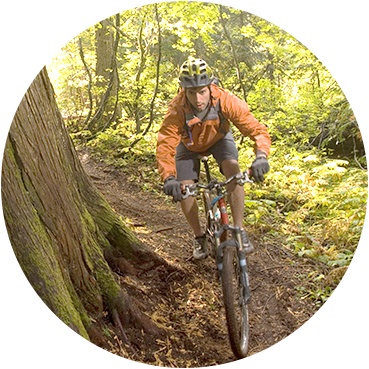 Moun­tain bik­ing can change lives. I know this because it's changed mine.
From the moment I first threw a leg over a bike at the age of 6, I was hooked. Dis­cov­er­ing moun­tain bik­ing 12 years lat­er only deep­ened the addic­tion. Sacred Rides was found­ed, way back in 1996 in Fer­nie, British Colum­bia, on the belief that moun­tain bik­ing can make a dif­fer­ence in people's lives: our Rid­ers, our guides and sup­port staff, and the peo­ple in the com­mu­ni­ties we visit.
From open­ing us up to the sanc­ti­ty of our moun­tains, forests and rivers, to expe­ri­enc­ing anoth­er cul­ture from the seat of one's steed, to mak­ing direct con­tri­bu­tions to local com­mu­ni­ty projects, moun­tain bik­ing has the abil­i­ty to change lives. I think you'll agree that moun­tain bik­ing and trav­el can and should change the world for the bet­ter. That's the very core of what Sacred Rides is all about.
Mike Brcic, Founder
Our Sto­ry: Sacred Rides Over the Years

From hum­ble begin­nings in Fer­nie, British Colum­bia, well over 20 years ago, to our cur­rent rank­ing as
"World's Best Moun­tain Bike Out­fit­ter" by Out­side Mag­a­zine, we've had a lot of mem­o­rable mile­stones along the way. Here are a few:
1996 Sacred Rides found­ed in Fer­nie, British Colum­bia, by Mike Brcic.
1999 First week­long sin­gle­track trip (the "Best of BC" — now Rocky Moun­tain Sin­gle­track) in inte­ri­or B.C.
2001 "Ulti­mate BC" 13-day trip launched, cov­er­ing B.C.'s best inte­ri­or riding.
2006 10-year anniver­sary! First inter­na­tion­al scout­ing trip (to Peru), Inca Trail trip launch­es lat­er that year.
2009 Select­ed "#1 Moun­tain Bike Tour Oper­a­tor on Earth" by Nation­al Geo­graph­ic Adven­ture magazine.
2011 Ped­al and Pad­dle trip (Patag­o­nia) ranked Top 50 Adven­tures of 2011 by Out­side Magazine.
2013 Explor­er line of begin­ner

&

inter­me­di­ate trips launched, fol­lowed by Women's‑Only Rides.
2014 Ranked "World's Best MTB Out­fit­ter" by Out­side Magazine.
2016 20-year anniver­sary! Cus­co to Ama­zon Adven­ture named Top 50 Tours of a Life­time by Nat Geo.
2019 Sacred Rides part­ners with Bicy­cle Adven­tures to offer more rides in more incred­i­ble destinations.