May 7, 2021
You've all heard that say­ing "April show­ers bring May flow­ers," but this is not the case in SW Utah. On our last Sin­ners and Saints moun­tain bike tour in Utah that wrapped up on the last day of April, we saw a sweep­ing array of beau­ti­ful bloom­ing cac­ti and wild­flow­ers pop­ping out of the dry desert floor. We saw a vari­ety of hedge­hog cac­tus, Johnson's fish­hook, Indi­an paint­brush, and the bear claw pop­py that is known to only grow in the St. George area. Beyond the beau­ti­ful wild­flow­ers, we had unceas­ing grand views of Zion Nation­al Park and the sur­round­ing Mesas.
Connect the Dots on St. George MTB Trails
The day we rode the Green Val­ley trail sys­tem, we were treat­ed with cool temps, cloud cov­er­age, and stun­ning views of the vibrant red rock at Snow Canyon State Park. We found our­selves rip­ping through toned sin­gle­track with a hand­ful of chunky descents and punchy climbs. It was a good intro to the rid­ing that lay ahead.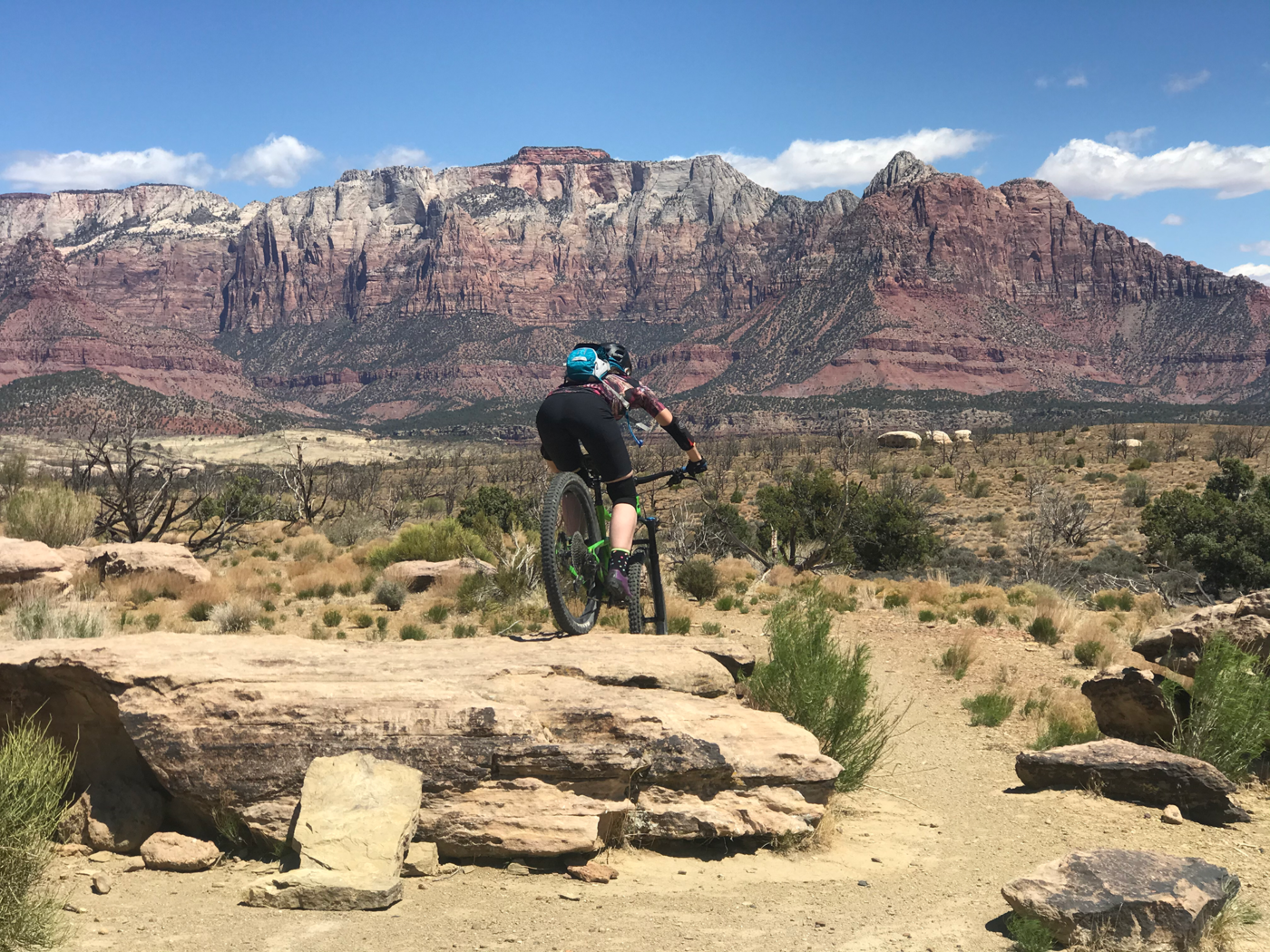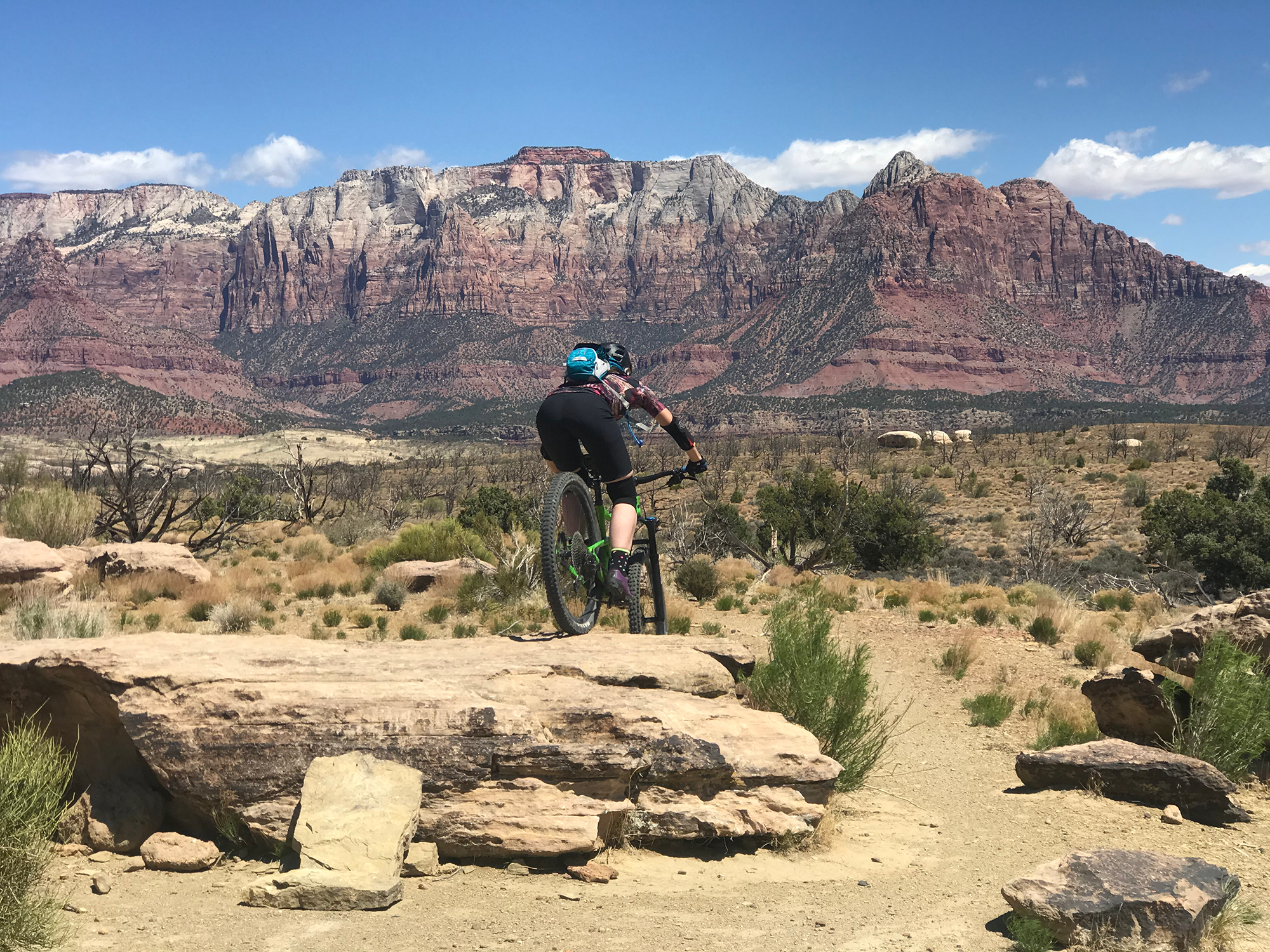 The next few days we tack­led the Gua­camole trails, Goose­ber­ry and Wire mesa, Jem, and Hur­ri­cane Rim. Each day we built on our skills and con­tin­u­ous­ly pro­gressed through­out the week.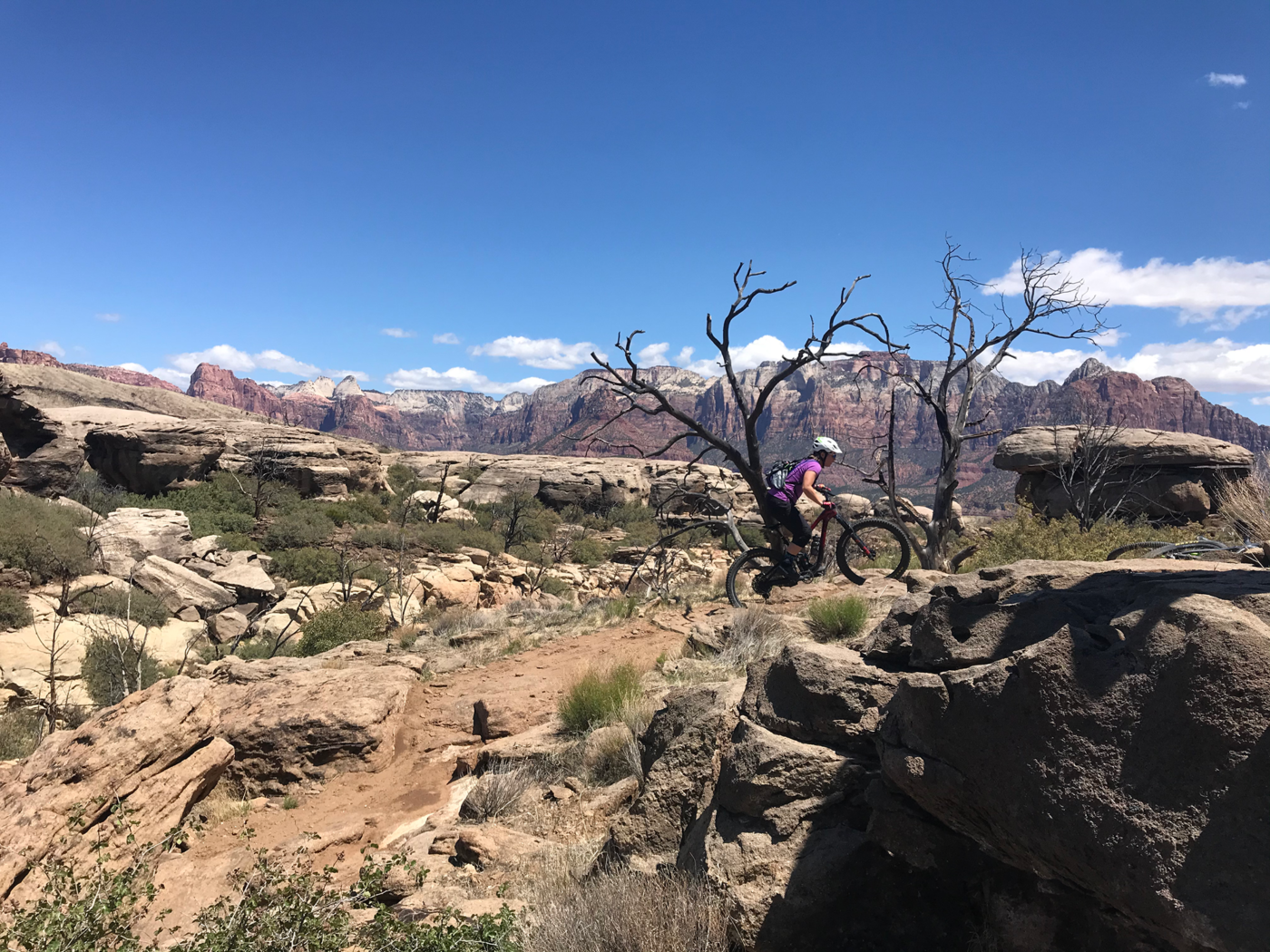 Gua­camole was a good mix of slick­rock slabs, steeps, rollers, drops, and punchy climbs sprin­kled with wide open, fast and flowy sin­gle­track. We were liv­ing in the moment and hav­ing a blast push­ing our­selves on dif­fer­ent lines. It was a huge con­fi­dence builder for most of our group— they were from out east and most of them had nev­er rode on any­thing com­pa­ra­ble. They were in heav­en not only with the rid­ing but the 360 views. Zion Nation­al Park felt like it was with­in an arm's reach. On our way back, we took the Salt on the Rim trail. You can't miss this one—it fol­lows the west­ern edge of the mesa with a mas­sive ver­ti­cal drop to the val­ley floor.
Onto the infa­mous Goose­ber­ry mesa. While the views are spec­tac­u­lar, the trails itself are a fun way of play­ing con­nect the dots. The end­less slick­rock play­ground is marked with white dots that will lead you out to Goose­ber­ry Point. Though the white dots mark the trail, there are bound­less lines to choose from – how far do you want to push your­self out­side your com­fort zone?
Down the road from Goose­ber­ry is a new­er trail called Wire Mesa—some call it Gua­camole and JEM's baby. (I can attest to that.) This trail has it all and was one of the group's favorite, with flow sec­tions through cac­ti and juniper, a hand­ful of tech­ni­cal slick­rock lines, and views that will have your jaw drop­ping. We stopped and ses­sioned a punchy climb that led to an overview with spec­tac­u­lar views of Zion, Smith­son­ian Butte, Grafton Mesa, and Pine Val­ley Moun­tains. We stood there for a moment tak­ing in the sur­re­al views. I remem­ber a guest say­ing, "I can't believe this is even real."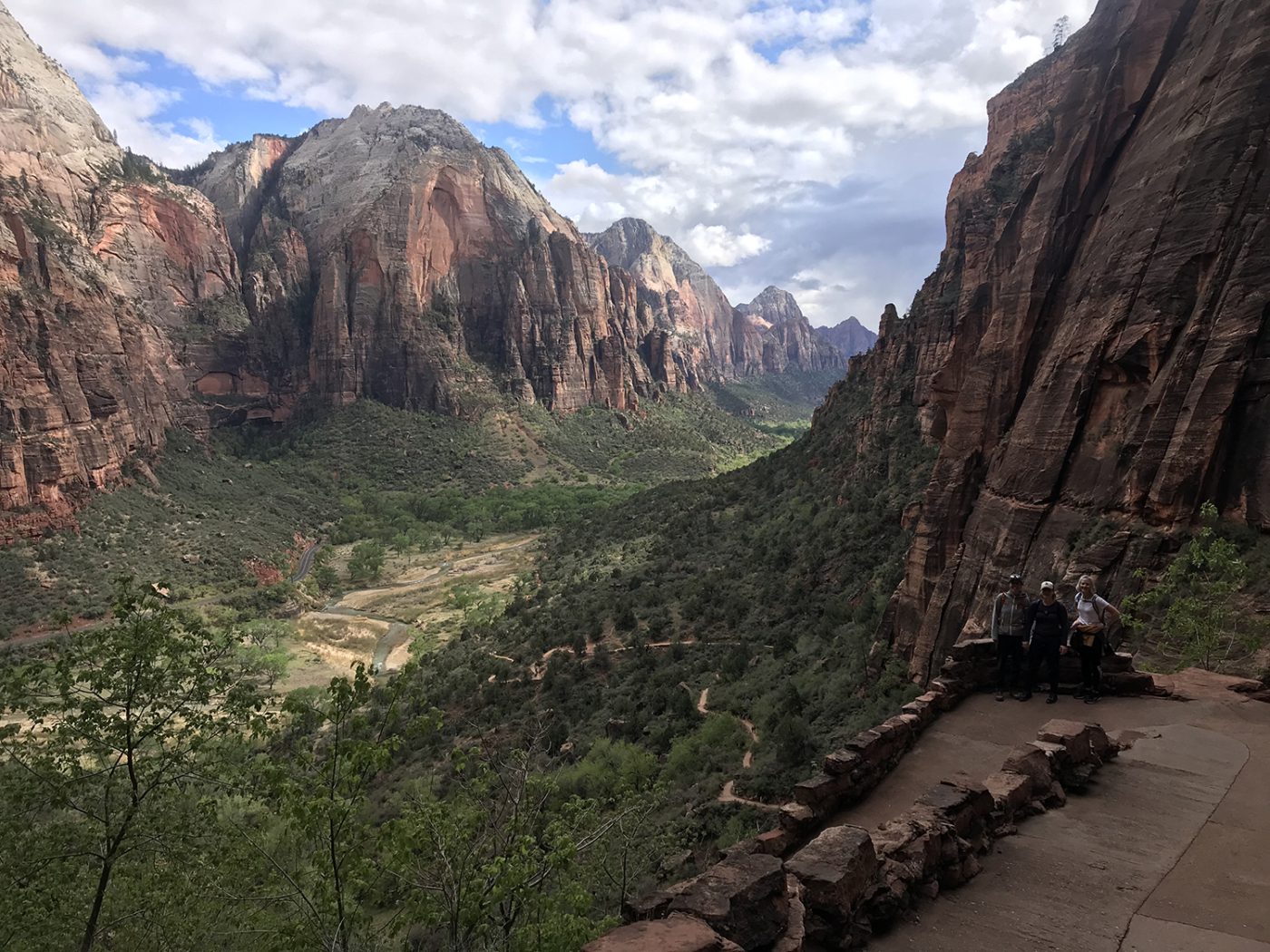 Ending with the Notorious JEM
Our last day was spent above the town of Hur­ri­cane on the JEM trails and Hur­ri­cane Rim. It was the cher­ry on top. We put our blind­ers on as we tra­versed the exposed trail of Dead­ringer – we made sure to ring the bell at the top of the trail with a smile on our face. Then on to the noto­ri­ous JEM down­hill: Every­one had the time of their life hit­ting jumps, drops, cor­ners, and a cou­ple tight switch­backs – we put all our skills to play on this one. Then we fin­ished out rid­ing atop the Vir­gin Riv­er on the Hur­ri­cane Rim.
---
More on Utah: