June 24, 2015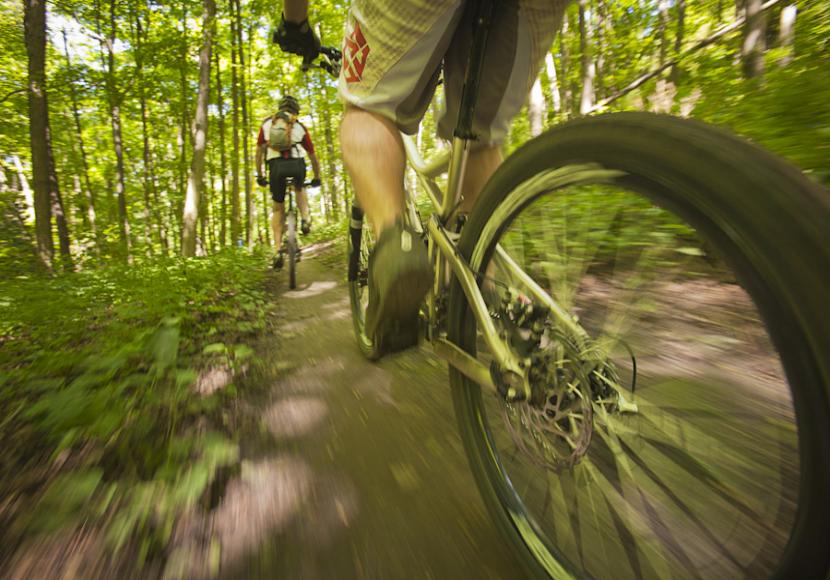 At Sacred Rides, we encour­age trav­ellers and moun­tain bik­ers to step out of their com­fort zones and expe­ri­ence new adven­tures. After all, you learn a lot about your­self and oth­ers when you take risks, get out­side and explore. Many peo­ple believe liv­ing an adven­tur­ous lifestyle is unat­tain­able, due to busy work days, bills and long com­mutes. Deal­ing with these real­i­ties on a dai­ly basis, and plan­ning a trip or ride often leads to com­ments like, "I can't do that" or "If only I had more time." Of course, I occa­sion­al­ly hear myself say that as well! Tak­ing time for your­self and your pas­sion is impor­tant, but how do we do it?
A few weeks ago, I stum­bled across Alas­tair Humphrey's blog. Vot­ed Nation­al Geographic's Adven­tur­er of the Year, Alas­tair coined the term "microad­ven­ture." A microad­ven­ture is sim­ply "an adven­ture that is close to home, cheap, sim­ple, short and yet very effec­tive." It pro­vides an escape from those busy work days and a reawak­en­ing of what real­ly mat­ters to you. Best of all, you get to explore your own back­yard, on your own terms. Pri­or to learn­ing the term "microad­ven­ture," I real­ized I have been a long sup­port­er and par­tic­i­pant of this move­ment. I have always thought you learn the best lessons by explor­ing your own back­yard, fol­low­ing the ebb and flow of the sea­sons and observ­ing how the envi­ron­ment (and trails!) change around you. I often search for new places to explore and cre­ate my own microadventures.
Adven­ture is what you make it. Pick a spot on the map, pack your bike and head for the trails. Cre­ate your own list of microad­ven­tures you want to con­quer this sea­son. It does­n't take much to step out of your com­fort zone and explore a new place, you might be surpised at what you find. Plus, those small, but rich expe­ri­ences open new doors — to new friend­ships, new per­spec­tives , new insights and per­haps one day, big­ger, bold­er adventures.
HERE ARE SOME TIPS FOR PLANNING YOUR NEXT MINI ADVENTURE:
1. BE PREPARED.
Have your bike, tent, snacks, head light and oth­er gear packed in your car. You will have no excuse to dri­ve home after work, instead of hit­ting the trails.
2. SAY 'NO' TO ROUTINE.
It's easy to get stuck in the 9–5 rou­tine. Sign up for a week­ly bike race or join a moun­tain bike club. Com­mit to after-work adventures.
3. MAKE A LIST.
Keep a list of places you want to vis­it in your car. When you feel inspired or have a few hours — go check out the trail by your house, yes, that one… the one you have lived beside for six months and nev­er ven­tured down.
4. WRITE IMPORTANT DATES ON YOUR CALENDAR.
Plan adven­tures around hol­i­days, birth­days and spe­cial events — invite friends and you are more like­ly to exe­cute your adventure.
5. REALIZE YOU'RE NOT THE ONLY ONE.
There is a large com­mu­ni­ty of peo­ple just like you! The week­end war­riors and embrac­ers of 'after-work hours,' who are con­stant­ly on the move. Seek out these com­mu­ni­ties and you will find tons of like-mind­ed adven­tur­ers. "Adven­ture is only a state of mind. Adven­ture is stretch­ing your­self; men­tal­ly, phys­i­cal­ly or cul­tur­al­ly. It is about doing what you do not nor­mal­ly do, push­ing your­self hard and doing it to the best of your abil­i­ty." — Alas­tair Humphreys.
We are inter­est­ed in hear­ing from you — share your next "microad­ven­ture" in the com­ments below!