August 23, 2014
(adapt­ed from the ABC of Moun­tain Bik­ing)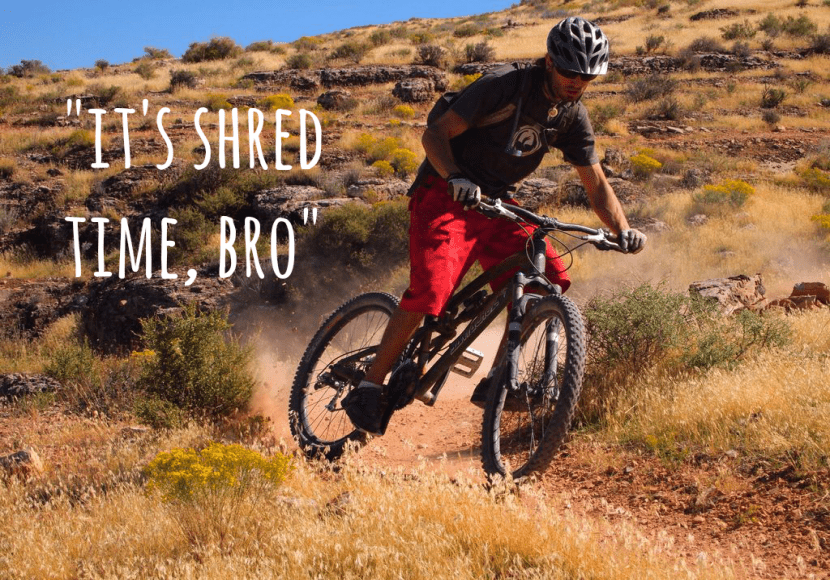 There are so many moun­tain bike terms and jar­gon out there that any­one new to the sport can eas­i­ly feel like they're join­ing a fra­ter­ni­ty or becom­ing a pirate. It's pret­ty easy to feel con­fused — I remem­ber going on my first moun­tain bike ride at 15 and being asked by anoth­er rid­er how I was fair­ing with rigid forks. "Huh…I'm not car­ry­ing any form of cut­lery" was my response. Yes friends, the learn­ing curve was steep. Check out this list to learn the basics of moun­tain bike ter­mi­nol­o­gy. To be sure, it's far from being a com­plete lex­i­con of all moun­tain bike lin­go, but a quick overview of com­mon­ly used moun­tain bik­ing terms any begin­ner may encounter when frat­er­niz­ing with oth­er moun­tain bikers.
ATTACK POSITION
the alert and well-bal­anced posi­tion you ride in when you approach, or ride on, rough ter­rain. It is char­ac­ter­ized by bent knees, rear above the sad­dle, elbows slight­ly bent, and a raised head.
BERM
an embank­ment on a trail.
BONK
when you run out of energy.
BUNNY HOP
a hop that you incor­po­rate into your rid­ing tech­nique so you can clear obsta­cles such as logs with­out stopping.
CHAIN SUCK
the drag­ging and jam­ming of your chain that occurs in slop­py con­di­tions, or when lit­tle burs occur on your chain­rings that cause the chain to bunch up. CLEANa per­fect ride through a tough section.
CLIPLESS PEDAL
a ped­al that has spring-loaded cleats that clip to a rid­ers shoe.
CROSS-COUNTRY
a tra­di­tion­al moun­tain bike race that mix­es many types of rid­ing con­di­tions into one coarse.
CYCLOCROSS
an off-road race that involves rid­ers hav­ing to dis­mount and run over obsta­cles, car­ry­ing their bikes.
DIALED IN
when every­thing on your bike is run­ning smooth­ly, you are said to be "dialed in"
DOUBLETRACK
two trails that run par­al­lel to each oth­er (also called trac­tor trail or Jeep trail).
DOWNHILL
a type of rac­ing held most­ly on ski slopes — fastest rid­er to the bot­tom wins.
DOWNSHIFT
shift­ing to a low­er gear.
DROPPING IN
Drop­ping in a steep sin­gle track when oth­er rid­ers are around.
DUALIE
a bike that has both front and rear suspension.
ENDO
a crash that involves going over the han­dle­bars of your bike.
ENDURO
a form of moun­tain bike rac­ing in which there is a greater pro­por­tion of down­hill sec­tions, which are timed, to uphill and cross coun­try sections.
FIRE ROAD
a back coun­try dirt or grav­el road wide enough for emer­gency vehi­cles to use.
FORK
the part of the bike that attach­es the front wheel to the frame.
GNARL
extreme tech­ni­cal sec­tions. Char­ac­ter­ized by very rough, rooty, slip­pery, or rocky sec­tions. Com­mon­ly found in the Pacif­ic North­west and New Eng­land. "He has got some great bike han­dling skills and can real­ly scream through the gnarl."
GRANNY GEAR
the low­est gear avail­able on a bike, which only a grand­moth­er would need to use; designed for steep uphill climb­ing, but extreme­ly easy to ped­al in on flat ground.
GRINDER
a long uphill climb.
GRUNT
a very dif­fi­cult climb, requir­ing use of the granny gear.
HARDTAIL
a moun­tain bike that has no rear suspension.
IMBA
Inter­na­tion­al Moun­tain Bik­ing Asso­ci­a­tion. An orga­ni­za­tion for trail advocacy.
INVOLUNTARY DISMOUNT
a crash.
KNOBBY TIRES
the all-ter­rain tires that are used on moun­tain bikes.
LID
hel­met.
LINE
the desir­able path or strat­e­gy to take on a tricky trail section.
MTB
Short for moun­tain bike.
MUD DIVING
what hap­pens when a bike slows abrupt­ly in mud, throw­ing the rid­er into wet goo.
NORBA
(Nation­al Off-Road Bicy­cle Asso­ci­a­tion) — USA Cycling's moun­tain bike rac­ing division.
OFF-CAMBER
sloped ground that makes han­dling difficult.
PINCH FLAT
a tire flat that is caused when the tube is pinched against the rim internally.
PRESTA VALVE
the nar­row valve found on most moun­tain bike inner tubes. A met­al cap must be unscrewed before air can enter or exit.
PSI
the tire infla­tion mea­sure­ment. It stands for pounds per square inch.
RATCHET
a rid­ing tech­nique in which you ped­al in par­tial strokes in order to clear obstacles.
ROCK GARDEN
This refers to a sec­tion of trail cov­ered with big rocks.
SCHRADER VALVE
the type of valve used on most cars and trucks. They are found on less expen­sive bicy­cle tubes and are spring-loaded to release air or let it in.
SHRED
nego­ti­at­ing trails with a high­er-than-usu­al lev­el of expertise.
SINGLETRACK
a nar­row moun­tain bike trail that must be rid­den sin­gle file.
SNAKEBITE
same as a pinch flat, but has two holes. (same causative mechanism)
STANDOVER CLEARANCE
the dis­tance between the top tube and the rid­er's crotch.
SWITCHBACK
a turn on a hill that is too steep to be climbed with­out zig-zagging.
THE ZONE
a state of mind expe­ri­enced while rid­ing. You don't think, you just do. A tru­ly mys­ti­cal expe­ri­ence that can't be ful­ly explained, but when you get there you'll know it and strive to reach it again.
TRACKSTAND
a rid­ing tech­nique that involves the rid­er stop­ping com­plete­ly with­out putting a foot down.
TRAVEL
the dis­tance a sus­pen­sion fork or a shock can compress.
UPSHIFT
to shift into a high­er gear.
WASH OUT
to have the front tire lose trac­tion, espe­cial­ly while going around a corner.
WASHBOARD
small, reg­u­lar undu­la­tions of the soil sur­face that make for a very rough ride.
WEIGHT-WEENIE
a MTB own­er (not even nec­es­sar­i­ly a rid­er) who is more con­cerned with how many mil­ligrams a cer­tain com­po­nent saves off the bike's total weight than with how to be a bet­ter rider.
WHEELIE
lift­ing the front wheel off the ground, usu­al­ly with some com­bi­na­tion of pulling on the han­dle­bars, ped­al­ing hard­er, and balance.
WIPEOUT
a crash. v. ("wipe out") to crash.
WONKY
not func­tion­ing prop­er­ly. "I bailed, and now my wheel is all wonky and all I hear are wild pigs."
XC
Short for "cross coun­try" – see above.
YARD SALE
a hor­ren­dous crash that leaves all your var­i­ous "wares" — water bot­tles, pump, tool bag, etc. — scat­tered as if on dis­play for sale.