Click here to view the ride data.
Bound­ed by numer­ous 10,000 foot peaks, wild rivers and creeks, the Saw­tooth Nation­al For­est, and drool-wor­thy singletrack—Sun Val­ley moun­tain bik­ing sets you right amongst all this raw and rugged beauty.
This exclu­sive 6‑day ride tells the sto­ry of the wild west. It was­n't until gold was dis­cov­ered in the 1870s that Sun Val­ley start­ed to become pop­u­lat­ed by Euro­pean set­tlers and prospec­tors. But it was­n't just the gold that put this gem on the map, it was and still is famous for its heal­ing hot springs.
Though it's boom­ing with his­to­ry, we're going for the rugged back­coun­try sin­gle­track, moun­tain­sides scat­tered with lodge­pole pine and Dou­glas fir trees, spo­radic groves of aspens, brew­eries, and the best post-ride après. With over 400 miles of trails that are all with­in a 30-minute shut­tle ride, or a short ped­al from your doorstep and a wel­com­ing, tight-knit moun­tain bik­ing com­mu­ni­ty, it's with­out ques­tion a des­ti­na­tion we could­n't pass up. From high alpine big moun­tain rides with 360 views of the 5 sur­round­ing moun­tain ranges and long flowy descents, you'll be grin­ning from ear to ear. These epic views and descents are encom­passed with long climbs along moun­tain ridges, creeks, and lush forests that will keep your heart pound­ing. You'll earn those après drinks on these rides.
We're excit­ed to announce that we've joined forces with the local out­door retail­er, Sturte­vants for on-the-ground gear sup­port and sup­plies. Sturte­van­t's his­to­ry of sup­ply­ing the North West out­door adven­tures is a per­fect addi­tion for this Sacred Rides experience.
For accom­mo­da­tions we've part­nered with a favorite amongst trav­el­ers, and it's right on main street in Ketchum—The Lime­light Hotel. It was once a rough-and-tum­ble bar in the mid­dle of a rapid­ly expand­ing par­adise and is now thriv­ing as a lux­u­ry hotel in a town that con­tin­ues to expand.
Get ready to fill your lungs with pris­tine air, your bel­lies with amaz­ing food, and your cam­era with incred­i­ble mem­o­ries. Plus, for those look­ing to fly in with­out the has­sle of pack­ing your bike, we've part­nered with Giant Bicy­cles to offer you great trail bikes for the week. It's time for you to let loose in the beau­ti­ful moun­tains of Idaho.
Is This Ride For You?
You love big moun­tain rid­ing that includes long climbs and fast and flowy descents mixed in with some expo­sure and tech­ni­cal sec­tions. You don't mind jump­ing off the bike for an occa­sion­al push to get the best views, high ele­va­tion, and more fun descents. You can han­dle long days in the saddle.
Day 1. Your Intro­duc­tion to Sun Val­ley Moun­tain Bik­ing: Creeks and Gulches

Wel­come to Sun Val­ley, Ida­ho! Grab some break­fast and get ready to hop in the shut­tle. We'll be doing local pick-ups and then head­ing to the trail­head. Here we'll get bikes set up if you shipped your own or get fit­ted on one of our Giant Trances.

Today's ride is one of the val­ley's favorite for not only moun­tain bik­ing but all forms of recre­at­ing. We will encounter wide open views of the sur­round­ing moun­tains, green mead­ows, and if we're lucky we might catch stands of aspens turn­ing gold. From steady climbs amongst pine and aspen forests to fast and flowy descents this will be a great intro­duc­tion to the days ahead.

After recap­ping a great first day on our shut­tle ride back to town, we will then check into our rooms at the beau­ti­ful Lime­light Hotel. We will give you some time to clean up and then head out for din­ner, drinks, and an in-depth look at the epic week that lies ahead.

Din­ner will be a taste of North­west Rocky Moun­tain influ­enced with a vari­ety of Amer­i­can and Euro­pean classics.
Day 2. Green­horn Trail Network

After a hearty break­fast at your hotel, we'll head over to the pop­u­lar Green­horn trail network.

These trails cross through a vari­ety of ripar­i­an veg­e­ta­tion from sage­brush to aspen trees before climb­ing through dense pine and fir forests to the top of a ridge­line. Once you reach the high point, you will be greet­ed with out­stand­ing views of the Pio­neer Moun­tains. From here we will drop into a short flowy descent before climb­ing back up through an exposed burn area. From there its all pure good­ness. The trail winds through grin-induc­ing bermed turns, rollers, and fast flow.

We will return to an ice cold cool­er full of beer and refresh­ing spritzers—cheers to an epic ride before head­ing back to the hotel to get ready for dinner.

Din­ner will be in a cozy his­toric cab­in, where they serve New Amer­i­can Cui­sine and offer an exten­sive wine list.
Day 3. Gale­na Lodge and Ketchum

Enjoy break­fast at the hotel before tak­ing a scenic dri­ve north to the old min­ing town of Gale­na, which boast­ed the biggest com­mu­ni­ty in the Wood Riv­er Val­ley back in 1879. Now it's known as Gale­na Lodge and a place for locals and vis­i­tors to enjoy fun, flowy sin­gle­track, epic views, and phe­nom­e­nal food.

Here we have 40+ miles of trails that wind through old min­ing sites, cab­ins, forests of pine trees, and big views of the Boul­der and Smokey moun­tains. We'll ride a fun mix of trails where the climbs will be grad­ual, and the descents will be fast and full of mas­sive flow.

We'll enjoy lunch at the lodge, and if you're feel­ing up for it, we can take a few more laps before head­ing back down to the valley.
Day 4. Osberg Ridge Singletrack

Today we'll enjoy a nice break­fast before head­ing out on a short shut­tle ride up Bak­er Creek road—this is where the fun begins. We'll be rid­ing superb, high alpine sin­gle­track all the way back into town, and we'll end with après at the local brewery.

We'll start on Osberg ridge with a nice steady climb, which will be one of three—mostly grad­ual through pine for­est and open mead­ows. Be sure to look around as you are sur­round­ed by the rugged Boul­der and Smokey moun­tains. As the trail con­tin­ues to twist and turn with views around every cor­ner, we'll even­tu­al­ly get to one of the best descent in the val­ley. This will bring us right to the edge of town, and from there we'll ped­al down to the local brew­ery for a much deserved cold one.
Day 5. Deer Creek

After anoth­er tasty break­fast, we'll head out towards Warm Springs Road to start today's epic ride.

Bring your legs and lungs! Right out of the gate we'll be ped­al­ing up through forests of pine, fir, and aspen trees. When we hit the ridge­line it opens up to 360 views of the sur­round­ing moun­tain tops. We'll have a few more climbs mixed in with some fun descents that are sure to put a smile on your face. The last sec­tion of this ride is a fast and flowy descent with big sweep­ing turns and wide open mead­ows. Even bet­ter, it pops out right at one of the area's pop­u­lar hot springs—time for a soak!

Tonight, you'll get a taste of mag­ic at a rus­tic restau­rant that focus­es on local pro­duce and the best of what Ida­ho has to offer.
Day 6. Cold Springs to Warm Springs

Grab some break­fast, and get your bags packed and loaded. For our last ride, we'll start from town and do a big loop across Sun Val­ley Resort.

We'll jump on the bike path and head towards the Cold Springs trail­head. From there, it's a con­sis­tent grad­ual climb through forests of pines and Dou­glas fir, even­tu­al­ly open­ing up to an exposed tra­verse on the back side of Bald Moun­tain. Once we hit Warm Springs trail, be ready for a roller­coast­er ride all the way back to the base of Bald Moun­tain, and be sure to save some legs for the short climb to Lit­tle Amer­i­ca Point.

When we're done, it'll be time for a big round of hugs and high fives. Then we'll shut­tle you to your hotel of choice or the air­port. It's been a slice!
Picture yourself here…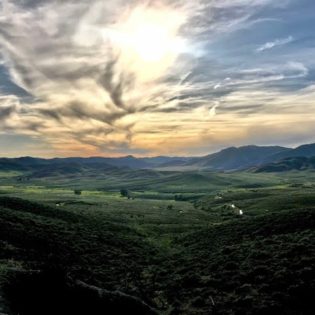 ---
The fol­low­ing data rep­re­sents a typ­i­cal itin­er­ary, but adven­ture trav­el can be unpre­dictable and our Guides may need to make last-minute changes to ensure your enjoy­ment. Inclement weath­er, road clo­sures, changes to the itin­er­ary to accom­mo­date requests, and oth­er issues may affect the itin­er­ary. The ride data rep­re­sents an 'aver­age' itin­er­ary, and may dif­fer when you actu­al­ly show up to ride. Our guides make every effort to stick to the itin­er­ary as post­ed, but your safe­ty is our #1 priority.
Ride Data: Sun Valley

Day
Hours

of riding

Distance

ridden

Elevation

gained

Elevation

lost

Highest

elevation

1

4.5

21

3325

3086

7596

2

4

16

3004

2811

7960

3

6

25

4086

4588

8999

4

5

27

2542

4297

9590

5

5

28

3691

3751

8521

6

4

22

3969

3460

8281

Totals
28.5

HRS