Click here to view the ride data.
If you have a hard time pro­nounc­ing words like FJÁRFESTINGARFYRIRTÆKI, that's OK. Ice­land will leave you speechless.
Wel­come to Ice­land, a land of plen­ty in the eyes of the moun­tain bik­er. Plen­ty of hot springs to soak in, plen­ty of peaks to scale and plen­ty, plen­ty of mind-bend­ing sin­gle­track to explore. Ice­land is a moun­tain bik­ing play­ground, and on this Ride, you'll get to be King or Queen of the castle.
Oth­er than our moun­tain bikes, our trusty Super Jeeps will be our means of explor­ing the island—crossing rivers, des­o­late black sand beach­es, lava fields and glaciat­ed mountains—taking you to the far­thest reach­es where very few have set foot, much less wheels. As you stand next to the mys­ti­cal Skó­gafoss water­fall and atop the mighty Eyjaf­jal­la­jökul vol­cano, you'll feel like a mod­ern-day Viking dis­cov­er­ing new and unchart­ed lands.
And what bet­ter way to end a day of bliss­ful back­coun­try rid­ing than with a dip in a geot­her­mal pool, beer in hand? To that, we say Skál!
Is This Ride For You?
You're look­ing to get off the beat­en path and explore far-off, remote lands which few tourists get access to. You are a pas­sion­ate and fit moun­tain bik­er with true grit. You get excit­ed at the thought of a hike-a-bike sec­tion or a riv­er cross­ing if it means access­ing unchar­tered ter­ri­to­ry and reach­ing new heights, often with incred­i­ble views. You have expe­ri­ence rid­ing in a vari­ety of ter­rain, and can han­dle chal­leng­ing climbs, tech­ni­cal descents, loose grav­el and scree as well as some expo­sure. You can ride for up to 5 hours over sev­er­al days at a good pace. You have a sol­id, well-main­tained do-it-all trail bike (with rough­ly 6 inch­es of trav­el, drop­per post and beefy tires. Rentals also available).
Itinerary
Day 1. Arrival, Lava Field Explo­ration, and First Moun­tain Bike Ride in Iceland

Arrival at Keflavik Inter­na­tion­al air­port, where we'll have a shut­tle pick you up at 7:00 am or 11:00am. Enjoy the 45-minute dri­ve through lava fields to Iceland's cap­i­tal, Reyk­javík. This quirky city, dot­ted with col­or­ful hous­es, is burst­ing with great restau­rants, shops and galleries.

The sched­ule for today will depend on your arrival time.

For those arriv­ing in the ear­ly morn­ing, our team will drop you off at the hotel to drop your lug­gage. You'll have time to explore the city and grab a cof­fee before check­ing in at noon. We strong­ly rec­om­mend check­ing out the local geot­her­mal pool to relax after a long flight, our team can direct you to the pools upon arrival.

For those arriv­ing by or before noon, you'll have the option to get your legs spin­ning on an easy ride just out­side the city's cen­tre. Our guides will pick you up from the hotel at noon and head to our base to build bikes or get you suit­ed up with a rental. We'll shut­tle to one of the local's favourite pur­pose-built XC trails. We'll catch sight of the Elliðaár riv­er flow­ing with salmon as well as the local bike park, before con­clud­ing at the hotel. The guides will shut­tle the bikes back to our base and get them cleaned up for our next day of riding.
Day 2. Geot­her­mal Wonders

Fol­low­ing a gen­er­ous break­fast, we'll shut­tle 45 min­utes out­side of town towards Þingvel­lir Nation­al Park, an area bub­bling with geot­her­mal activ­i­ty (don't for­get your tow­el! You'll need it later).

We'll gear up and begin rid­ing towards the moun­tains We'll be reward­ed with views of the sur­round­ing lakes and tec­ton­ic fields. If it weren't for the cityscape of Reyk­javík in the dis­tance, we'd feel like we're rid­ing on a for­eign plan­et, with steam ris­ing from the ground and mud gush­ing from the earth's crust. The trails we'll ride here are known to locals only, with lit­tle traf­fic and tons of chal­lenges. The ter­rain today is chal­leng­ing with loose rock and exposed trails, includ­ing some climbs and short hike-a-bike sec­tions with incred­i­ble scenery.
Day 3. Off the Beat­en Path

After break­fast, we'll pack our bags and check out as we're off to the high­lands. The dri­ve through dark­ened lava fields and lush green­ery is incred­i­bly scenic. The weath­er dic­tates the plan for the day.

Today we will dri­ve towards one of Ice­land's most beau­ti­ful water­falls, named Hái­foss. We start at a scenic point over­look­ing the water­fall before start­ing our ride down into a canyon carved by the riv­er lead­ing into the Pjórsárdalur val­ley where we end our ride today. Then we'll hop back into the Super Jeep to make our way to the high­land B&B.

Back at the B&B, it's time to crack open a cold one and enjoy the local din­ner buffet.
Day 4. Choose Your Ice­land Moun­tain Bik­ing Adventure

We'll rise and shine ear­ly, check out of our B&B and hop into the Super Jeeps. It's time to head for the highlands.

We'll stop to unload our gear at our moun­tain hut before head­ing out to the area known as Land­man­nalau­gar, famous for its geot­her­mal activ­i­ty, colour­ful moun­tain views and pic­ture-per­fect singletrack.

Today the group will be split into two small­er groups to max­i­mize your expe­ri­ence. Choose between a chal­leng­ing hike-a-bike and high­er alti­tude ride or for a less demand­ing (equal­ly as beau­ti­ful) sin­gle­track ride. The rid­ing today will be inter­spersed with a few short hike-a-bike sec­tions. These remote, far-flung reach­es are acces­si­ble by foot or moun­tain bike only — you won't see a self­ie stick or tour bus for miles and miles around here. We'll ride our bikes into the gold­en hours and as the beers are chilled to per­fec­tion, we'll con­tin­ue our dai­ly reg­i­men of hot spring dips and post-ride cheers.

We'll head to our abode for the night where we'll enjoy a camp-style BBQ din­ner and tra­di­tion­al Ice­landic cui­sine. We'll wrap up the evening by camp­fire shar­ing a glo­ri­ous tales from the day's ride.
Day 5. Off the Beat­en Path — Round 2!

After wak­ing up in our back­coun­try cab­in and fill­ing up on a hearty break­fast, we'll pack up for the day's adven­ture. After break­fast, we'll head out on a jeep safari fur­ther into the high­lands where our rid­ing starts after lunch at a remote moun­tain cabin.

As we hop on our two-wheeled machines, we'll mar­vel at the vis­tas ahead of us: far-off glac­i­ers, jagged moun­tain­tops, crisp water­falls flow­ing into pris­tine lakes and a thin line of hero dirt snaking its way through it all. This is where the now famous Yeti video was filmed. You'll ride through super scenic land­scapes, you'll won­der: am I still on plan­et Earth!?

As we retreat to our cab­in for the evening, a deli­cious tra­di­tion­al Ice­landic din­ner will be wait­ing for us, fol­lowed by a well-deserved sauna. Around the camp­fire tonight, we'll give our best attempts at pro­nounc­ing our next des­ti­na­tion: Eyjafjallajokull.
Day 6. Vol­ca­noes and Waterfalls

We'll wake up, enjoy a hearty break­fast and get ready for our final day of mind-blow­ing riding!

Again, weath­er will be the decid­ing fac­tor on which trails we ride today. In any case, we will see the won­ders of Thors Gar­den where climbs are reward­ed by spec­tac­u­lar views. We'll take a moment to enjoy the stun­ning views of glac­i­ers, snow-capped moun­tains and dor­mant vol­ca­noes. Serene birch forests and grassy mead­ows pro­vide a strik­ing con­trast against the black­ened earth on which we'll ride. Sev­er­al rocky sec­tions and wild riv­er cross­ings will make for an unfor­get­table adven­ture as we head all the way down to sea level.

We'll then enjoy the scenic dri­ve back to Reyk­javík for our final night togeth­er with the option of adding one final ride before head­ing back to Reyk­javik. It's time to crack open a Viking Lager (or two) and cel­e­brate like true Icelanders!
Day 7. Goodbyes

After break­fast, we'll bid our farewells with hugs and high fives. We'll dri­ve you back to the air­port, or you can feel free to keep explor­ing this mag­i­cal place.
Picture Yourself Here…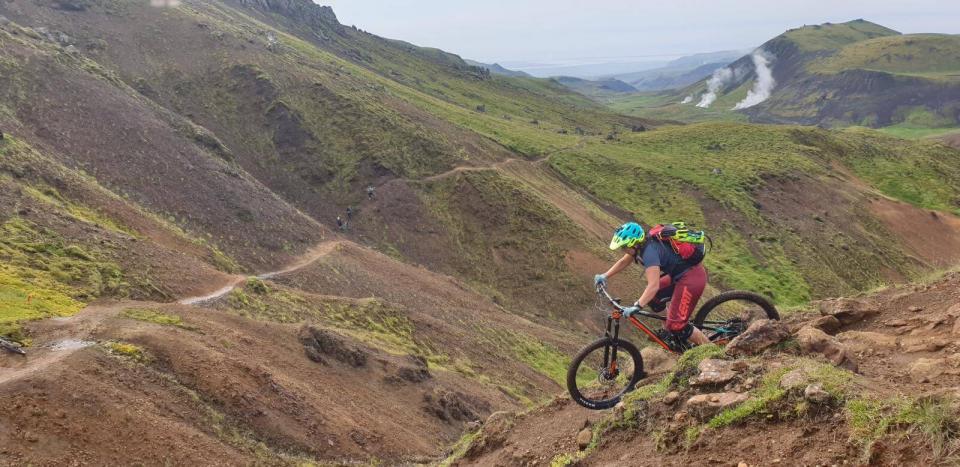 ---
The fol­low­ing data rep­re­sents a typ­i­cal itin­er­ary, but adven­ture trav­el can be unpre­dictable and our Guides may need to make last-minute changes to ensure your enjoy­ment. Inclement weath­er, road clo­sures, changes to the itin­er­ary to accom­mo­date requests, and oth­er issues may affect the itin­er­ary. The ride data rep­re­sents an 'aver­age' itin­er­ary, and may dif­fer when you actu­al­ly show up to ride. Our guides make every effort to stick to the itin­er­ary as post­ed, but your safe­ty is our #1 priority.
Ride Data: Fire and Ice

Day
Hours

of riding

Distance

ridden

Elevation

gained

Elevation

lost

Highest

elevation

1

3

12

1150

1700

1312

2

5

16

2600

4000

2000

3

5

17

4400

4500

3000

4

6

21

2600

4100

2000

5

7

17

3900

4600

3400

6

5

16

2600

4000

1600

7

0

0

0

0

0

Totals
31

HRS